I made this tote bag for Christmas to give to my mom (don't tell her).. I think it's lovely! She does alot of crocheting and it really is the perfect size for that or carrying her bible (click picture to enlarge.. also click links for more pictures).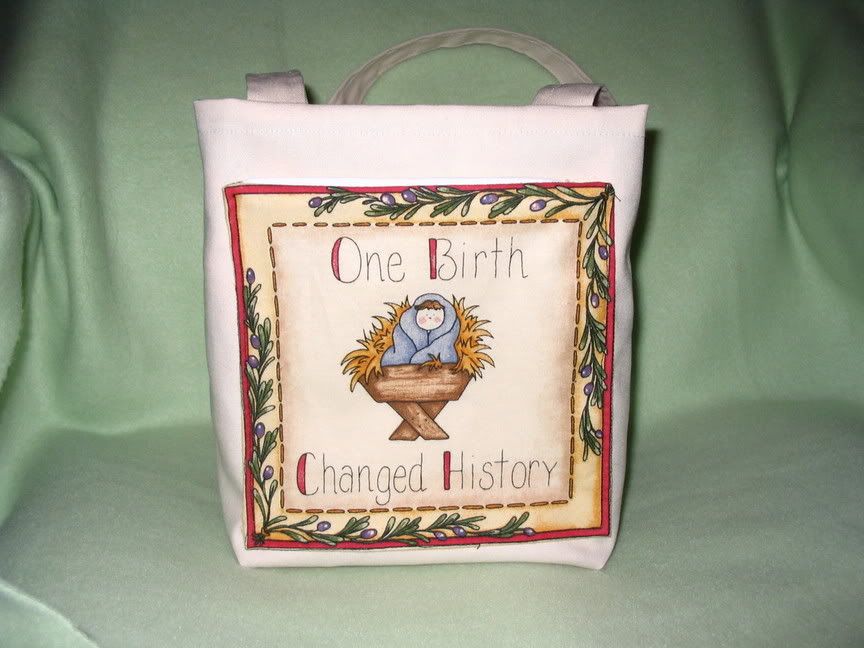 Inside of Tote
Bottom of Tote
First I bought a these squares from a lady on ebay. My mom LOVES nativity scenes and the fat quarter was all nativity type scenes. It came uncut and I sewed around each square ( also see this pic ~ although next time I won't do this) and then cut the square I wanted to use for a front pocket.
Next I cut out my pattern pieces (2 outside, 2 lining, 2 handles).
I normally use interfacing in my purses, but this one is made from a canvas type material so it really didn't need it in order to be sturdy. The handles are 3in x 26in, the fabric was cut 2 inches longer and 4 inches wider than a standard magazine. I did this so that the bottom and sides of the bag would be about 3 inches wide and it would be the perfect size for books and things like that.

A friend of my MIL sent over the material I used for the lining. She sent enough to make a giant bedspread! Im planning on using some of it for laprobes, but it really made a beautiful interior for the bag so I will be using it for others.