Im pretty proud of myself on this one.. Please click the pictures to enlarge!!
This sweater was so cute but huge and baggy sweaters look frumpy on me... I wanted to reconstruct it into a nice cardigan so here's how I did it.
I took a t shirt that fits me well and used that to determine how much material to take off the bottom of the sweater and down the middle, adding enough for seam allowance.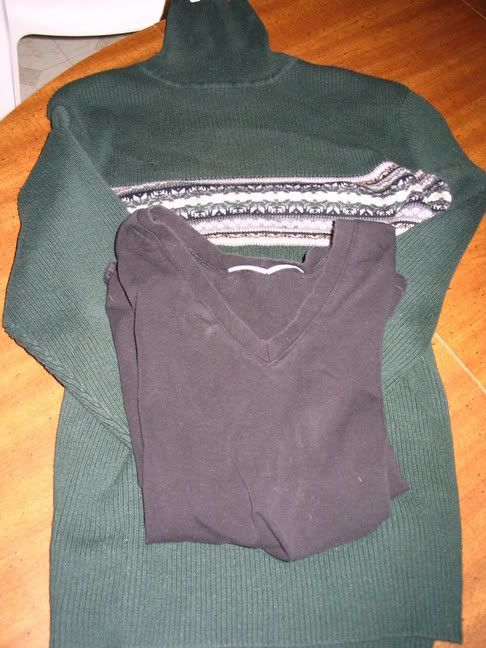 I removed that material as well as the turtleneck itself.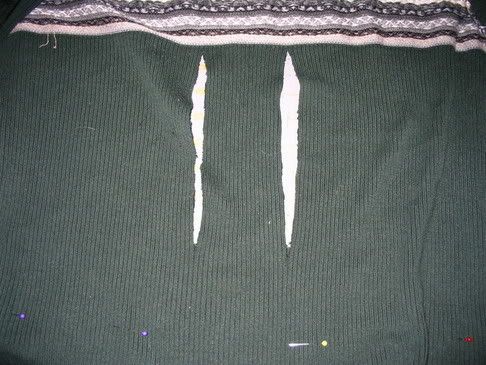 I knew I wanted to use this extra material on the top of a cami for underneath my cardigan so I set it aside.
I hemmed the collar, bottom and the area where normally you would have a row of buttons. I tried the cardigan on (don't try this with another shirt under it, it just wont be right unless it fits exactly like your cami would).
I was kind of disappointed, because although it looked nice, it wasn't girlie enough for my taste. I thought awhile and realized I had some tiny little lace that would look soooo cute, so I sewed that down the front. I also sewed in a hook and eye. This is what it looks like at this point::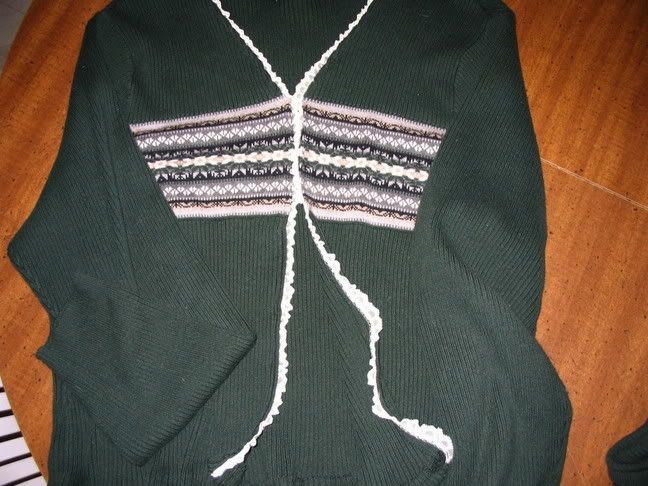 I had a Lycra camisole with one of those

awful

shelf bras that normal women just cant pull off.. I removed the bra part and sewed just under the "adjustable slide" so that the front of my cami would remain "stable" and wouldn't slide down (don't you hate that?). I then took the neck that I removed and split it down the seam. I sewed this part to the top of the cami on 3 sides (I followed the armhole and neckline but didn't sew the bottom part to the cami yet) I tried it on to see how it looked, and found that it didn't quite end at the bottom of my bust like I wanted it to... so I added part of the sweater I removed from the bottom and then sewed lace onto the bottom (to match the cardigan of course!). I then finished it off by sewing the bottom of the green to the black cami along the same line I sewed the lace.
The most difficult part of this project was the 'stretch' in the sweater. If you pull on your fabric when it goes through the machine, you'll end up with bunches or wrinkles.. I ended up with some of that on the cami but it's easily remedied with a little tug. This especially happens when you're sewing stretchy fabric to non stretchy (like the lace) so be careful.
Here's the big finale!! (click to enlarge)
Please note I didn't do anything to the side seams or to the armholes.. some people like to re size these for a better fit, but I didn't feel it was necessary in this case.

I'm sorry I didn't have more pictures to share with you, I hope this all makes sense. If you have any questions, my email is at the bottom of this page or please leave a comment (you can leave comments even if you aren't registered with blogger.. Id love to hear from you)

Link to my post at Craftster